Bill Brigden
Manitoba Sports Hall of Fame, Athlete/Paddling Category
Last update=4 July, 2007
The material in this page is used with the permission of Bill Brigden.
---

The B&W photo of Bill Brigden (stern) and Don Starkell (bow) was taken on the Assiniboine River in 1955 in Bill's K-20 (covered M-20 built by Bill Brigden).

Citation from the Manitoba Sports Hall of Fame:

"For a period of ten years, paddling events in this country were dominated by one man -- Bill Brigden.

"As an athlete Brigden possessed the qualities and attributes necessary for inclusion in any hall of fame; he competed at an international level, he did so in many different areas of his sport and he did all of this successfully.

"Brigden began his claim to paddling fame in 1948 when, as a junior, he placed second in Les Voyageurs Annual Canoe Race from the Winnipeg Canoe Club to Lower Fort Garry and back -- a total distance of 65 miles.

"Brigden would later win several titles at this event over the next five years, as a junior and a senior.

"Though he excelled in these endurance-style races, Brigden was truly a master of the relatively shorter 1,000 and 10,000 meter races.

"In 1949, the young Brigden placed second in both Kayak 1, single blade and double blade 1,000 events at the Canadian Canoe Association's Dominion Championships. That year Brigden also finished third in the K1 double blade 10,000 meter race.

"The 1950 season was the time when Brigden served notice on the national scene as he won every event he entered at the Dominion Championships. An even greater showing of dominance occurred the next year as not only did Brigden virtually own the Dominion Championships, he and K2 event partner Jim Nickel won all three races they encountered at the Olympic trials.

"Choosing to enter the K2 double blade event, the pair went to the 1952 (Helsinki, Finland) Olympic Games and placed a remarkable 11th out of 18 teams that took part. This placing was very respectable as the duo matched up against more seasoned veteran European paddlers.

"Following the Olympics, Brigden made competing in Canada seem boring as he maintained his control over the Dominion Championships until 1954. Along with partner Don Starkell, Brigden took two long distance titles in the Gold Rush Canoe Race held in Flin Flon, Manitoba -- the first in 1955 over 104 miles, and the second in 1956 over 140 miles. (They also placed second in 1957 over 81 miles.)

"Regardless of the impressive showings, Brigden was known to his fellow competitors as a hard-working, tireless athlete who had a rare gift - the stamina and endurance to master long events and yet the power and strength to win the shorter races."

by Shawn Coates, Canadian Publishers.
---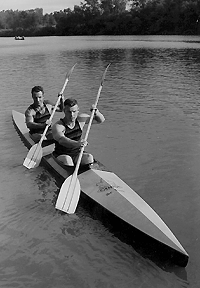 Bill Brigden (stern) and Jim Nickel (bow)
This photo was taken in front of the Winnipeg Canoe Club,
during training for the 1952 Helsinki Olympics.
More on Bill Brigden, by Ed Owsiak, Past-President of the MRCA.
During the time that Bill Brigden was a member of the Winnipeg Canoe Club from 1948-1954, he entered races winning many trophies, cups and crests.
His name is on many of the trophies and cups at the club. He received a club sweater in 1949, the highest award for gaining the highest number of points for racing. He was not only enthusiastic and dedicated to paddling, but also in maintaining and repairing any paddling equipment, canoes and kayaks at the club and keeping them in top condition. He was awarded the Order of Merit Plaque from the club in 1949.
He also encouraged and coached paddlers including a crew for the Ladies Wear Boat Race in the Canadian Canoe Association (CCA) championship in 1953. He coached two of the women paddlers, Morna Cammell, and Cathy Flower for the CCA Ladies K2 competition in 1965 and 1966.
Bill entered and won numerous races in the Manitoba Paddling Association Regattas, and in the Winnipeg Canoe Club races in competition with the Kildonan Canoe Club and the YMCA Canoe Club.
He entered the Keewatin-Kenora Canoe race in 1980 coming a close second with his partner.
Bill Brigden's career has been and still is building both Competitive and Recreational canoes and kayaks which did much to foster paddling in Manitoba. He also designed the canoes that he built. He sold his canoes at a very reasonable price which made it possible for almost everyone to own one. I still use one of his recreational models that I purchased back in 1974 for $185. I have enjoyed paddling the canoe on my many trips in the shield country and it has stood up well!
It has been said that Bill originated the concept of the bent-shaft paddle which he made and used in the races he participated in, in the 1950s.
(Ed Owsiak was President of the MRCA in 1991 when he prepared the above text for the document to support nomination of Bill Brigden to the Manitoba Sports Hall of Fame)
---
Even more info about Bill Brigden, by D. Kurt, MRCA Trip Committee, 1995
The above information documented by Ed is still true -- at the age of 79 Bill is still building his well-known canoes and paddles, although he sometimes wishes he hadn't taken on the latest four canoe orders. But I really wonder why he keeps his prices so low ... if he wants to stop building, why doesn't he jack up his prices like everyone else? ... could it be that he can't stop from getting other people paddling and keeping them happy about the prices?
"Kayak paddles that disassemble cost about $120 with an aluminum blade. A canoe paddle costs about $60 with a fibreglass blade. A 16' M3 canoe costs about $850 (my friends tell me its too cheap). An 18' M3 canoe costs about $1700 (it takes more than twice the time for 16' M3s)."
Bill built the 21' canoe that Don Starkell used to "Paddle to the Amazon" by building two halves of his 16' M3 recreational canoe, adding two inches depth midships (15") and joining the two halves with a straight 5' section of fibreglass. The M3 is a 1965 modification of Bill's M2 canoe. The canoes are stiffened with ribs and have an integral, adjustable foot brace which many paddlers miss when they're in other canoes. The M3 has very little rocker, 13" depth at midships and is streamlined; it is affectionately known in Manitoba as the "Brigden".
Bill has built over 600 M3 Recreational canoes using gelcoat, polyester resin, fibreglass cloth and fibreglass mat, in hand lay-up, one canoe at a time. As a result, the canoe weighs about 65 pounds. He prefers to keep costs down, so does not use kevlar cloth or more expensive resins. For those who wonder about the longevity of his lay-up, I can only advise them to check out the M3s that are 30 years old -- they are still in fine shape; in fact, some are in better shape than some high-tech vacuum-bagged kevlar canoes that aren't even half as old! I have been on many canoe trips where Brigdens outnumbered other canoes.
Bill likes to make his canoes in blue, green, yellow, red and olive but will make any colour a customer wants -- he has made a canoe in a very light purple (blends in well with earth tones, owned by a fast paddler -- you can't see him go by!). He puts the colour right in the resins, so it's impregnated through the cloth as well as the gel-coat.
Where did the names M2 and M3 come from? Bill can't quite recall but he reckons that "M" came from "model" and there was Model 2 then Model 3. Bill also made an M5 model which was a racing canoe. Bill said "When I was at the canoe club in the '50s - racing canoes were an M20 Peterborough -- 30" wide and 16' long -- a nice, fast paddling canoe. Don (Starkell) saw a picture of the two local fellows (in Flin Flon) beating everyone else -- was sure they were in a M20 canoe -- the rules gave dimensions of 30" wide, 16'long -- left it wide open. The M20 did not have a keel -- it had little brass end plates but would have been difficult to steer." Bill made a canoe similar to the M20, decked the canoe in like a kayak and paddled it like a canoe (the K20 is shown in the 1955 photo of Bill Brigden and Don Starkell). He made a big deck in the front which would take rough water "like a son of a gun." He raced for 2 years paddling in this canoe.
Bill then designed his own canoe for racing and recreational purposes and named it the M2: "starting from another canoe -- a 20' canoe was made for the people up there (Flin Flon) -- made a half pattern 8' long for a 16' canoe and 2' straight and used the half pattern with a future view of making 16', not 20' canoes. Made two 8' halves and put them together to make an M2 canoe." The heat (from resins curing) in the vee bottom of the M2 mold caused the mold to buckle, so Bill made another pattern similar to the M2 but it was deeper and slightly rounded on the bottom with higher ends to take the waves better (the birth of the M3). Both canoes have no rocker and no keel.
Bill built the double-blade kayak paddle that Victoria Jason used to paddle the Northwest Passage the past four years. The fabrication includes a sheet metal (aluminum) oval type blade or round, dished (round and concave) fibreglass blade and a single or two piece shaft. He also makes a straight-shaft and bent-shaft canoe paddle using a wooden shaft and the same types of blades as on the kayak paddles. Siska spruce was used for the shafts but it is now scarce so Bill has reverted to pine, which makes a nice, light paddle. Bill makes his bent-shaft paddles with an oval shape to the shaft so the paddle doesn't turn in your hand as do other bent-shaft paddles.
Bill's tip on paddling:
"People using a bent (-shaft) paddle don't usually know how to use a straight paddle -- the top hand goes forward too fast -- instead of correcting their stroke they use a bent paddle -- they push from the waist back -- but they should pull instead (by turning at the waist)." Bill gets the grip forward and pulls the boat instead of pushing it. Bill's success in winning races against stronger fellows was by developing his technique using a double paddle in the centre seat of a canoe -- he learned to apply a kayak stroke as a pulling stroke in a canoe stroke. "A reach forward with one hand forces you to twist and forces you to pull instead of push."
Bill is married to Marion; they have two sons, a daughter and several grandchildren. Marion has lived with a house full of resin vapours for over 30 years and both her and Bill show no adverse health signs. She comes out with Bill to the canoeing and kayaking meetings and get-togethers on a regular basis especially if they have anything to do with paddling!
Bill said that the Helsinki race in 1952 started with 21 teams, but three dropped out because it was a very rough day.
---

Bill Brigden passsed away on Jan 16, 2005. An obituary appears in D. Kurt's memorials page.
---
Back to the Rivers Page