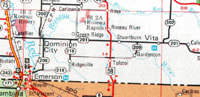 The Roseau River

Last update=5 June, 98
---
The Roseau River has its headwaters in Northern Minnesota. It flows into Manitoba through the sandy lands of south eastern Manitoba. It is one of the first rivers to open up in the spring, usually the first week of April. The gradient is quite steep as it winds through the transition lands from the sandy forests of southeastern Manitoba towards the prairie near the Red River, creating a fast flowing fun paddle in the early spring. In high water there are no rapids -- just a fast stream. As the water level drops some boulders begin to appear, creating fairly long stretches of continuous class I rapids. As the water level drops further, it becomes more technical, and then eventually becomes too low to paddle.
The river has carved some beautiful sandy cliffs along its banks over the course of centuries. It has created numerous oxbows in its meanderings.
Drive south from Winnipeg on highway 59 to the bridge crossing the river at the town of Roseau River, a few miles south of St. Malo. There is a park on the east side of the road, just south of the bridge. Put in here. Do a car shuttle by driving due west of the park to a T-junction on the first section road north, a 15 or 20 minute drive. There is a bridge over the river just north of the T-jucnction. Leave a car at the bridge. This road continues north to St. Malo. The trip by canoe from the park to the bridge is about 5 or 6 hours.
first paddle of the spring, still lots of snow
paddling near the cliffs
the "cliffs of Roseau"
kayaking under the old footbridge
a kayak
a canoe
the scenic Roseau
a group picture
fun stuff
more fun stuff
a cliff and a tiny canoe
a view from the cliff
a great day
Most of these pictures were taken in April, 98.
---

Go back to Bill Kocay's River Running Pages.