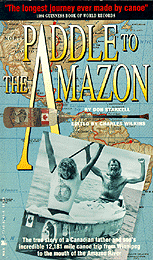 Paddle to the Amazon
An adventure of Don and Dana Starkell.

Last update of this web page = 3 May, 95.
The material in this page is used with the permission of Don Starkell.
---
"It was crazy. It was nuts. It was the adventure of a lifetime."
"When Don and Dana Starkell left Winnipeg in a tiny three-seater canoe on the morning of June 1, 1980, they had no idea of the dangers that lay ahead. Two years and twelve-thousand miles later, father and son had each paddled nearly 20 million strokes, slept on beaches, in jungles and fields, dined on tapir, shark, and heaps of roasted ants. They had encountered piranhas, wild pigs, and hungry alligators. They had been arrested, shot at, taken for spies and set upon by pirates. They had lived through terrifying hurricanes, food poisoning, and near-starvation. And at the same time they had set a record for a thrilling voyage of discovery that they -- and you -- will never forget.""
Taken from the back cover of Paddle to the Amazon, by Don Starkell, edited by Charles Wilkins, Prima Publishing and Communications, California,1987.
---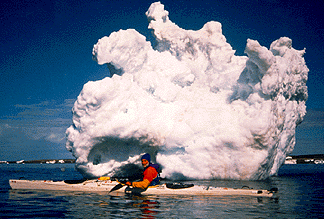 Paddle to the Arctic
Don Starkell's North-West Passage Adventure
will soon be published by McClelland and Stewart.

(The above photo was taken in mid-August, 1991, in Repulse Bay, by Victoria Jason)

The following extract from the article Northwest High Adventure, by Jack Blair, is taken from the MRCA Newsletter, Volume 6, Number 1, Winter 1993. It tells some of the story...

"When Don Starkell retired at the age of 47 in 1980, he set three goals for himself. First, to paddle from Winnipeg to the Amazon River. This two year trip he completed with his son Dana in May of 1982. Second, to paddle along the West coast of Canada from Vancouver to Ketchikan, Alaska. This 800 mile trip Don completed in 19 days in 1986. Third, to paddle the Northwest Passage starting in Churchill, Manitoba and concluding at Tuktoyaktuk, just North of Inuvik on the Beaufort Sea. This 3000 mile kayak trip Don planned to complete in 100 days.

"The history books credit the Norwegian explorer Amundsen with being the first to sail through the Northwest Passage during the period 1903 to 1906. The St. Roche, an RCMP ship sailed from the West to the East in 1942. The Manhattan, a large American ship, traversed the Passage in 1974. American submarines, the USS Nautilus and the USS Skate, in the late 1950's, powered their way under the ice. But to go through the Passage in a kayak?

"On the 15th of June, 1990, Don started his solo trip from Churchill. On the second day out, the worst occurred. Don tipped! Without a wet suit; it would cause him to sweat too much; and a mile from shore, Don was in the numbing cold of Hudson Bay. After a great deal of difficulty, he was able, somehow, to reach shore. Incoherent and suffering from hypothermia, he managed to set up his tent. Don spent eleven days on shore recovering. Paddling back to Churchill, he told himself that he was never going to go back.

"Returning to Winnipeg, Don teamed up with two other MRCA Members, Victoria Jason and Fred Reffler. This trio departed Churchill in mid June, 1991. Don was going to reach his third goal. On the second day out, at Hubbart Point, they were trapped by ice --- for 18 days. Losing almost 20% of their planned paddling time, the successful completion of their trip was now doomed. Three days after departing Hubbart Point, the three kayakers arrived at Eskimo Point where Fred was forced to withdraw, suffering from an arm injury.

"Victoria and Don pushed on Northward. They passed by Whale Cove, Rankin Inlet, and Chesterfield Inlet reaching Repulse Bay on Melville Peninsula in mid August. Don estimated that they paddled an extra 200 miles due to a navigational error that he made. In the far North, compasses don't work as advertised. Victoria and Don flew out of Repulse Bay, returning to Winnipeg.

"Don considers Hudson Bay to be one of the toughest waters in the world to paddle. There are a number of natural phenomena. The ice, the 15 to 18 foot tides, the distance the water drops away from the shoreline at low tide, the 12 hour wait for the high tide in order to get back to shore, the winds that 600 miles (the width of Hudson Bay) of uninterrupted expanse can generate, the waves, the weather patterns, and the reliability of the compass. Victoria and Don believe that this was the first time that anyone canoed or kayaked from Churchill to Repulse Bay.

"Don and Victoria made plans for 1992. As they had already paddled from Churchill to Repulse Bay, they would fly and start their trip from Repulse Bay. If there was no open water, they would drag their kayaks on sleds. To this end Victoria had a sled made and Don packed the sled made for him in 1990. On the 3rd of June, they left Repulse Bay, planning to pull their kayaks on the sleds to Spence Bay, a distance of 400 miles. Fully expecting to travel a distance of 15 miles a day, they quickly realized that the sleds were inadequate when they were able to travel only 7 miles on the first day. The decision to return to Repulse Bay was made. Four days later, Victoria and Don were in Spence Bay. Twenty-five foot Eskimo dog sleds pulled by skidoos carried them and their kayaks.

"There was no open water at Spence Bay! No open water was expected until mid July due to a late spring. Undaunted, Victoria and Don borrowed twelve foot sleds on which they would pull their kayaks to Gjoa Haven. On the 11th of June, they started out on their 115 mile, 9 day journey to Gjoa Haven each pulling approximately 500 pounds. Victoria, on the 7th day, had a difficult time putting her boots on. It was not until they arrived in Gjoa Haven that she learned that she had gained 15 pounds. Due to muscle breakdown from overexertion, she was suffering from edema of the legs, feet, hands, and face. She was in such bad shape that she could not be flown to Yellowknife. Victoria was ordered to bed.

"Don stayed at Gjoa Haven for a day and one half before he started out on his own for Cambridge Bay, a distance of 315 miles, pulling a sled carrying his kayak. Twenty days later, Don had arrived, travelling approximately 400 miles. One day he pulled the sled for 32 miles!

"Cambridge Bay was the same. No open water. On the 17th of July, Don left after learning there was a 10 foot crack in the ice going to the mainland. Six miles from shore, the crack ended and Don was forced to drag his kayak over and through the rotting ice. His destination for this leg of the trip was Coppermine, 300 miles from Cambridge Bay. It was while he was pulling the kayak that he lost his double blade. While searching for it, he fell through the rotten ice. Luckily, Don managed to get back to his kayak and not 20 feet away, was his double blade. Pulling his kayak to the shore, Don was able to paddle as there was open water which extended along the shore line to Bathurst Inlet. Spring had finally arrived -- from Bathurst Inlet to Coppermine, there was open water. Arriving at Coppermine on the 1st of August, he was forced to stay until the 7th due to high winds and needed repairs to his kayak.

"Victoria recovered in Gjoa Haven and flew to Coppermine on the 8th of July. For the next week and one half, she exercised and paddled up the Coppermine River while waiting for the ice on Coronation Gulf to leave. On the 18th of July, she set out for Tuktoyaktuk. On the third day, she noticed that she was suffering from edema again. She was forced to return to Coppermine. Victoria resolved to return the next two years to finish her paddle on the Northwest Passage.

"Don, loaded down with 40 days of rations, and able to obtain additional rations at the Dew Line stations Cape Parry and Point Nicholson, had set his arrival date in Tuktoyaktuk for the 15th of September. Unfortunately for Don, as late as spring was, winter was as early. The earliest winter since 1938 arrived.

"For the last 18 days of his journey, he was able to paddle only on four days. On the 8th of September and approximately 100 miles from his destination, he encountered a 4 day blizzard. He could not paddle. On the 13th, Don reached McKinley Bay. He was weathered in for 5 more days by another blizzard. The 18th saw him paddle another 30 miles. He landed on a sand bar where he was trapped by another blizzard for 4 more days. He knew exactly where he was as he determined his latitudinal and longitudinal position with his Global Positioning System (GPS) personal locating receiver.

"The water level increased until the sand bar was under water. Most everything froze and Don rationed his food and his fuel. On the 23rd, the wind died down. In a weakened condition, Don embarked at 7 in the morning wearing his running shoes and socks. His rubber neoprene boots had filled with water and were frozen. Within 15 minutes, his kayak was coated in an inch of ice and his double blade, from the weight of the ice, weighed close to 25 pounds. Don attempted to get to shore but each time that he did he became stuck in the slush. Five times he was able to free the kayak from the slush. On his sixth attempt to reach land, at about noon, the slush trapped the kayak. In five hours, he had been able to paddle fewer than 5 miles. Now he was unable to paddle, unable to get ashore, and unable to reach his food.

"From noon until 5 PM, Don attempted to free the kayak by crawling on his hands and knees, using his double blade and his foam sleeping mattress for support. Each of his five attempts ended when he fell through the slush, at times up to his armpits. Soaking wet and in -5 degrees C weather, Don sat back in his kayak. As the nights were 13 hours long, in the distance, straight ahead, he could see the lights of Tuktoyaktuk. Don suffered from stomach and leg cramps through-out the night. He knew full well that to go to sleep would mean the end. He hallucinated most of the night, imagining people coming to rescue him..."
---

Back to the Rivers Page